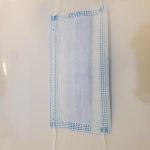 The immunization against COVID-19 will not mean the end of masks, frequent hand washing, and physical distancing. At least not yet.
Canada's National Advisory Committee on Immunization is recommending that people who have been vaccinated to continue practicing public health measures against COVID-19. The reason is that there is still not enough evidence about how long the vaccine is effective and whether it prevents spread.
The measures are necessary "at this time, due to insufficient evidence on the duration of protection and effectiveness of COVID-19 vaccines in preventing asymptomatic infection and reducing the spread.
The first vaccine, from Pfizer-BioNTech, was approved last week. Immunizations with the earliest doses started in Ontario and Quebec. The first vaccinations were administered in Ottawa. A second mRNA vaccine from Moderna is expected to be approved soon.
For more information about this story, click here.
LEARN MORE
Check out the available face masks for sale by visiting our face mask sale page.
Our courses maintain social distancing measures with reduced class sizes to maintain the minimum 2 meters apart along with the mandatory use of face masks and regular temperature checks. The venue of the courses undergo regular, enhanced cleaning and disinfection routines.
For more information about face masks, check out these sources:
https://www.fda.gov/medical-devices/personal-protective-equipment-infection-control/n95-respirators-surgical-masks-and-face-masks
https://www.cdc.gov/coronavirus/2019-ncov/prevent-getting-sick/about-face-coverings.html
https://www.hopkinsmedicine.org/health/conditions-and-diseases/coronavirus/coronavirus-face-masks-what-you-need-to-know